ONION DESIGN
A conventionalized aster flower on a stalk with a bud and liana curling around peony, combined with a composition constisting of peaches and pomegranates.....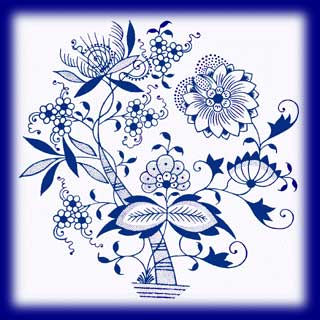 How many people have drawn immense delight from a pattern adopted by Meissen Porcelain Works from Chinese designs between 1738 and 1739, which has since adorned porcelain for an unbelievable 250 years? The charm of this unusual decoration, the socalled onion pattern (rightly referred to as the "decoration of generations"), continues to enchant every subsequent generation of customers.
The ornamentation used, which has been marked from the beginning as an onionlike pattern, comes from the connection of stylized plants motifs on the background of east Asian philosophy but is adapted to the European style and understading. Its discovery is attributed to Johann David Kretschmar of the Meissen porcelain manufacture.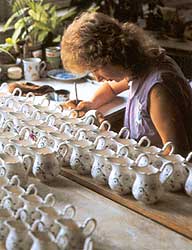 The term "onion design" is used erroneously. The design has nothing to do with the onion motive and the vegetable is also not necessary for the production. Only one of the decorative elements on plate edges , the pomegranate, remotely resembles the outline of an onion. Actually the whole design is an ingeniously conceived grouping of several floral motives, Japanese peaches and the above mentioned pomegranates, in the center of the product stylized peonies and asters, the stems of which wind in flowing curves around a bamboo stalk. Judging from the number of the various types of plants mentioned, the ornament might arise from an east Asian, probably Chinese model, but it also shows that the manner of strictly abstract stylization belongs to the sphere of European comprehension and is undoubtedly conected with the rhythm and rules of rococo ornamentation. For instance the asymmetrical motive is composed according to type in various areas, and yet at first glance gives the impression of symetry.
What has caused the permanent potence of the onion design, admired by generations, undaunted by numerous revolutions through which European china passed? The onion design is distinctly different, primarily by its quaint simplicity and restraint in shape and ornament. In its expression it is unusually intimate, evokes family good cheer, abounds in qualities which have their appeal also in these times.It is a symbol of fragile beauty, a symbol connecting the usefulness and the joy of spirit, a symbol of unity and world repute.
Blue Onion Porcelain About the joint-stock company Czech Porcelain